A Call to Nurse the World Workshop
11 Nov @ 8:00 am to 5:00 pm by North Coast Medical Training College
Join Us for "A Call to Nurse the World" Workshop
The North Coast Medical Training College proudly presents the THIRD instalment of our highly acclaimed workshop series!
Its time to make those dreams a reality!
Our past workshops have paved the way for countless nurses to embark on a successful journey in the USA. Get a chance to connect with experienced professionals who have been there and done that. Learn from their real-world experiences and gain access to invaluable resources and insider tips for a smooth transition and career growth in the United States.
Fast-track your path to a fulfilling nursing career in the USA.
N/B MORE INFORMATION IS ON THE POSTER BELOW!!!!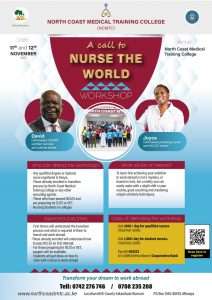 Don't miss this golden opportunity to kickstart your nursing career in the USA. Seats are limited! See you at the workshop! #NurseTheWorld
North Coast Medical Training College/ Look Beyond the Horizon