It has been a fun day at North Coast Medical Training College as staff and students joined other Kenyans to mark the nationwide tree planting day today on 13th November 2023.
The tree planting exercise that gave Kenyans a surprise holiday is part of the Kenyan government's ambitious plan to plant 15 billion trees by 2032.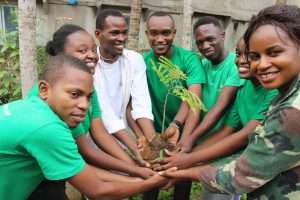 A total of 41 environmental enthusiasts from North Coast Medical Training College joined the exercise including 11 staff and 30 students drawn from different courses led by the college's environmental club.
The team planted a total of 50 trees in different parts of the college's compound in an exercise that was not just fun by very educative.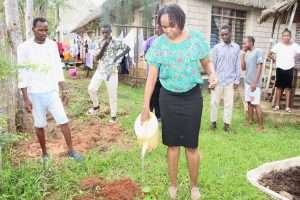 Madam Doroth Tenai-Principal  North Coast Medical Training College          
Speaking before flagging off the exercise, North Coast Medical Training College Principal Madam Doroth Tenai thanked the environmental club for their hard and dedication towards environment conservation.
"Let me first appreciate the environmental club, you guys are young in the association but you have done a lot." Said Madam Tenai.
"I have seen your photos going round as you plant trees and cleaning the environment and I'm proud that you are in the front line today as we as we contribute to the global ecosystem while at the same time representing North Coast Medical Training College." She added.
On his part, the head of pharmacy department at North Coast MTC Mr. Anania Deye who also joined the team in tree planting took the opportunity to urge more young people to take environmental conservation very serious not just in a day like today but everyday and everywhere they go.
According to Mr. Emanuel Nzivo who's the environmental club patron at North Coast MTC, the exercise will not end there as the team is also planning to take the initiative even further by participating in other environmental activities in the community including beach cleaning among other activities.
And as North Coast Medical Training College family we would like to wish all the staff, students and all Kenyans in general a Happy Holiday as we kick start the journey to 15 billion trees.